One of the things travel has really made me come to appreciate is family. In my 27-years I have only missed two December holidays with my family. The first time was in Goa, India, 2011 – two months into what would be an 11-month backpacking trip around South East Asia. The second time was this past year, which I spent in Mexico with a friend's family.
Both experiences were great, but it is one time of the year I think a lot of travelers feel a tinge of longing in their hearts to see family and friends.
This year I decided I was going to challenge myself to get home for the holidays, but to do it on an extreme budget. Partly to demonstrate it can be done, partly to save money, partly as a self challenge, but mainly to have a completely new experience.
The Plan:
Now I don't really like to do a whole lot of planning, as you may have noticed. But I was embarking on quite a quest with some set goals, so having some sort of plan didn't seem like a terrible idea.
Free Flight: A few months back, a travel deal site I follow posted a deal, if you sign up for an Amex Aero Plan card, you get 30,000 reward miles as a sign up bonus. There was no sign up fee or card fee for the first year. With the 30,000 reward miles I was able to book a free flight (only paid $72 in taxes) from Lima, Peru to Los Angeles, USA on United Airlines.
Visit Friends in LA: Back towards the start of this Pan American adventure, I met a girl in LA named Carla through an awesome site called CouchSurfing.org. She had offered to host me and we ended up becoming such good friends I stayed for almost a month. As I had the free flight to LA, I sent Carla and her sister a message to see if they wanted a visit from their Hippie Van Man amigo. They said, "of course! When is your flight landing so we can pick you up".
Wing It!: That was about all I planned out besides dealing with the bureaucratic nightmare in Lima, Peru prior to departure trying to defer my temporary import permit for my vehicle.
How It Went:
As I mentioned the week leading up to my flight was pretty wild, dealing with the bureaucratic nightmare in Lima, Peru trying to square off my documents. Thankfully I had some awesome local friends to help me out with that process! Once that was under my belt and I sorted out a place to leave the hippie van while I was out of the country, I hopped on a plane to LA.
I spent a week acclimatizing to American prices, culture and the thought of heading for the cold North East – Toronto, CANADA. Luckily California is infamous for it's legalized herb, which helped with the transition. During the week, on top of my normal freelance work schedule, I spent time hanging out with Carla, her sister, their boyfriends as well as a friend of mine from University who I'm developing a new App with. Additionally I was scanning Craigslist.com ride share section for rides East.
I found a couple options but after some assessment I decided to go with Susan, a middle-aged Southern-girl living in LA headed home to Tennessee to visit family for the American Thanksgiving in her PT Cruiser. Her offer was LA to Nashville for $100 flat. That included contribution for gas and sharing motel rooms two nights (it was a three day journey, hotel rooms had two beds). I had never been to Nashville but it felt right so I went for it.
Susan was exuberant and had no shortage of interesting stories to tell me. It was a tricky three-days trying to juggle my freelance work, especially as Susan was an early riser and I typically was spending 3-hours a night trying to catch up on my work I couldn't do during the 12-14 hour days of driving.
We got pulled over by the police on the final night on the road. We had pulled off to get a motel for the night and due to a lack of signage pulled straight back on to the highway. A minute later lights flash in the rear view. We pulled over. The police officer questioned why we had tried to evade him on the last off ramp. We looked at him like he was crazy. Susan explained she hadn't even seen him until he lit up his lights and pulled us over. He asked her to step out of the car and come back to his cruiser while he ran her ID and questioned her further.
About 6 or 7 minutes later Susan returned. The officer had apparently been convinced that we saw him follow us on the exit and for that reason we got back on to the highway. He kept pushing Susan to consent to a search of the vehicle but she was one fiery Southern Girl who wasn't going to let some super trooper tread on her constitutional rights and freedoms. Susan proudly and firmly stuck up for herself and stood her ground. We were back on our way.
En route to Nashville I had also tracked down a Couchsurfing.org host in Nashville. Barry had moved out from Virginia with his girlfriend and his band to follow his dreams of becoming a professional musician. He agreed to host me for during his Birthday weekend.
Susan dropped me off at a Starbucks near his house as we got in a couple hours early from when he was to get off work and Susan needed to continue on to her family's place. I used the time and excellent wifi to get caught up on work. I met up with Barry and his girlfriend, dropped my stuff off at the house, got freshened up and then headed out for dinner at a pub which seemed to have a million tasty craft brews to choose from.
I spent the second day in Nashville helping Barry and his girlfriend move their last few things to their new apartment. Jen – a member of the Hippie Van Man Facebook group had sent me a message to let me know she would be going through Nashville on her way home to Chicago for the American Thanksgiving and that she could give me a ride North if I wanted. It was one step closer to Toronto and another awesome adventure waiting to be had. I accepted the offer and Jen ended up coming by Saturday evening. The four of us went out for dinner and drinks.
Barhopping in Nashville was an absolute blast. We went to about 4 or 5 bars which all had live music. The last one we ended up at was Karaoke so I guess that counts. I tried moonshine and line dancin', we sang Queen – Bohemian Rhapsody in front of a packed house, and we saw some great live musical talent and ended up home safe and sound in the wee hours of the night.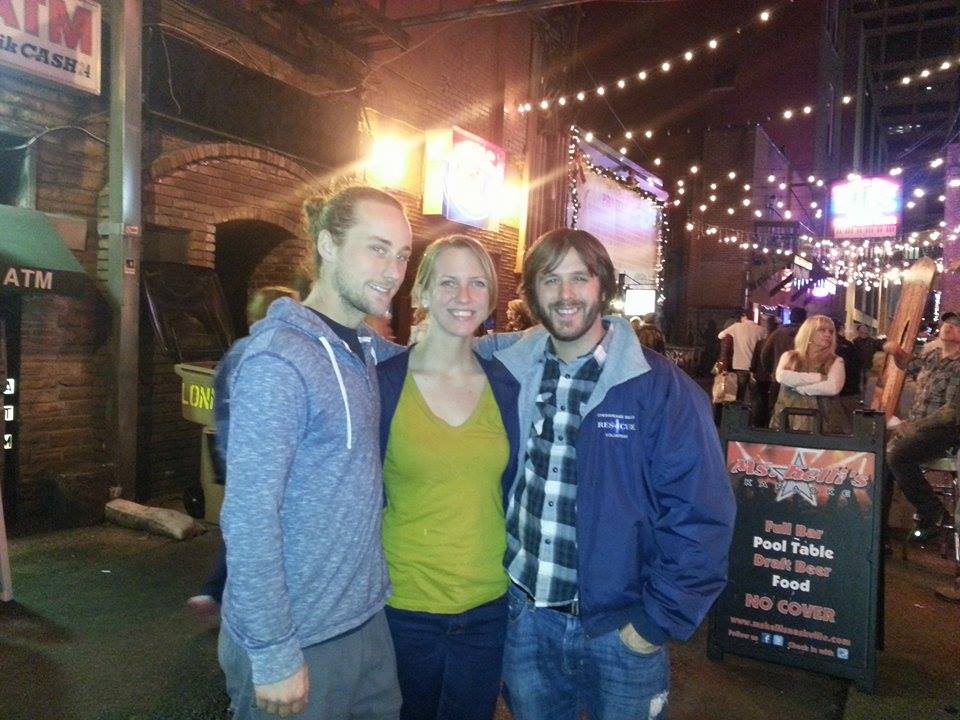 Sunday morning we all went to brunch and then Jen and I were off on our Nashville to Chicago road trip. Jen ended up offering to host me at her family's place just south of Chicago. I spent the night and decided I wanted to hit the road hitch hiking the last 800km home.
I didn't have a winter coat (it was -2 Celsius with flurries), luckily Jen gifted me her brothers old winter jacket. It was a tad small but sure was better than nothing. I suited up with some Alpaca mittens and hat that I had brought back from Peru with me along with the sign Jen and I made while having lunch at a diner. And with that I stood by the I-94 East on ramp – thumb up.
I caught my first ride with Matt and Patrick, two guys heading home for Thanksgiving. They dropped me off about an hour later in Benton Harbor, Michigan as they were not continuing on the I-94 but instead the I-196 (wrong direction for me). I tried to hitch a ride for nearly two hours in the dark and cold and finally called it a night around 7pm. I got a cheap motel room ($30 at the 'American Inn'), did a little work, had a shower and then caught some much needed Z's.
In the morning I started up fresh and new. I figured with less than 300km between me and Detroit, I would take my parents offer to meet me in Detroit and bring me home on the final four hour stretch. So I spoke with my recently retired father and of course we was more than thrilled to come grab me. He left from Toronto and I left the hotel in Benton around 9am. Within about half an hour I caught a ride with a businessman en route. He took me another forty-five minutes or so East to Kalamazoo, MI. We had a really good chat.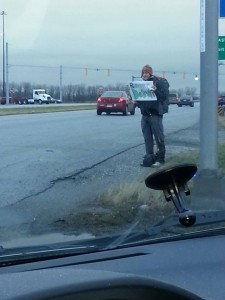 I got out in Kalamazoo and after another forty-five minutes in the cold trying to hitch a ride I decided to have breakfast/lunch. I headed back out after the lunch/warm up break and was able to catch a ride another 20 minutes East of Kalamazoo. By this time my father had crossed into the USA and had decided to keep coming west until we intersected. I ended up trying to hitch for about another hour while waiting and decided to go to a close by Mc D's to warm up. I spoke with my father and he said he was only 45 minutes from me at the point so I should just wait in the warm. I also used this time to get some freelance work done.
My father picked me up. We crossed back into Canada and got Sushi in Sarnia, Ontario.Then drove three and a half hours back to Toronto.
In total I spent:

$78 ("free" flight taxes Lima-LA)

$100 Ride Share + Motels LA-Nashville

$30 Motel 1 night

$50 Got my dad a tank of gas as a thank you.

Total : $258

So – I made it from Lima to Canada with a visit to friends in LA, toured around Nashville and made it back to Canada for just $258 in transportation and accommodation costs. The only thing not included was meals and entertainment and of course the generosity, love and hospitality gifted by those who gave me a ride, a place to crash, or some battle gear to brave the cold North.

All in all it has been one big adventure. Humbling, exciting, challenging, rewarding; so many things. This form of travel definitely isn't easy but it is rewarding as hell. To choose the challenging route over the easy route to try something new. To put faith in others generosity to get you to where you need to be. To take a leap of faith and go for it trusting that all that Hollywood fear about hitch hikers getting murdered and being murderers, is blown out of proportion. To see how long you can bare the cold and rejection of not being picked up. To experience genuine hope and gratitude.
Hitch hiking, ridesharing and couch surfing are not for everyone. But if you are willing to push your comfort zones, there are tons of incredible experiences for you to discover and perspectives to gain.
Big thanks to Jen for providing some photos for the blog post 🙂