The day's were counting down, I was quickly approaching the 180-day allowed stay for tourists per calendar year in Colombia. With this bureaucratic fire under my ass, I headed to the border, leaving from Pasto, Colombia where I had spent the night hosted by Colombian friends.

I left Pasto around 12-noon on Sunday. It was a beautiful 2 hour drive to the border through the monstrous mountains and valleys of Colombia's southern region.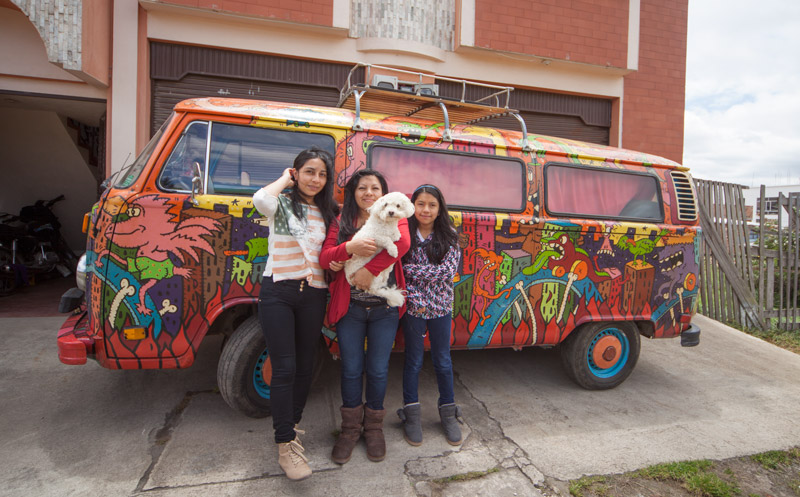 I reached the frontera at about 2pm. First order of business was to get my exit stamp from Colombian customs. After waiting in line for 30 minutes, it was finally my turn to be processed. The Colombian customs official took my passport and scanned it. Looking at it carefully he told me I had overstayed my visa by 1 day.
Math was never my strong point, and I forgot to take into account that May and July have 31 days and that 90 days is not the equivalent of three months. He then explained that the cashier was closed on Sundays and Monday was a National holiday and that I wouldn't be able to pay the fine/leave the country until Tuesday morning.
After explaining I needed to be in Quito for my work, which I actually did as I had some important client projects I needed to finish, and the Internet in Southern Colombia hadn't proved to be the most reliable. And as much as I love Colombia, I also didn't want to be stuck at the border for two more days. After some verbal and fiscal persuasion, I was able to get my passport stamped and temporary vehicle import permit canceled and I was on to deal with the Ecuadorian customs.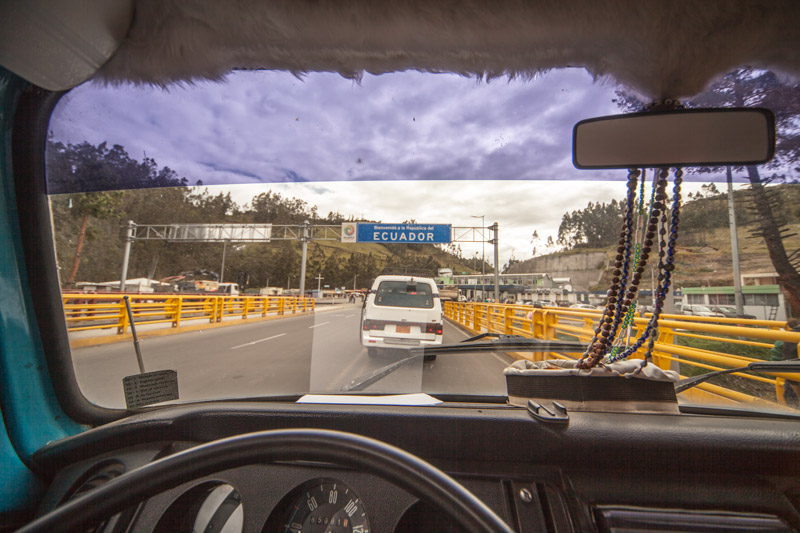 Everything went smoothly in Ecuador with customs, although the line was enormous. All in all it took four hours to clear the border. With my fresh 90 day visa and vehicle permit for Ecuador, I sped off for Quito (a trip that should be 4-5 hours from the border). I had met a Colombian father and Son traveling in a Volkswagen Kombi at the Ecuadorian border, and they asked if I wanted to caravan with them. As we started out they were driving fairly slow, and seeing that it was already 4pm and I didn't want to make it to Quito super late, I ended up picking up the pace and heading on without them.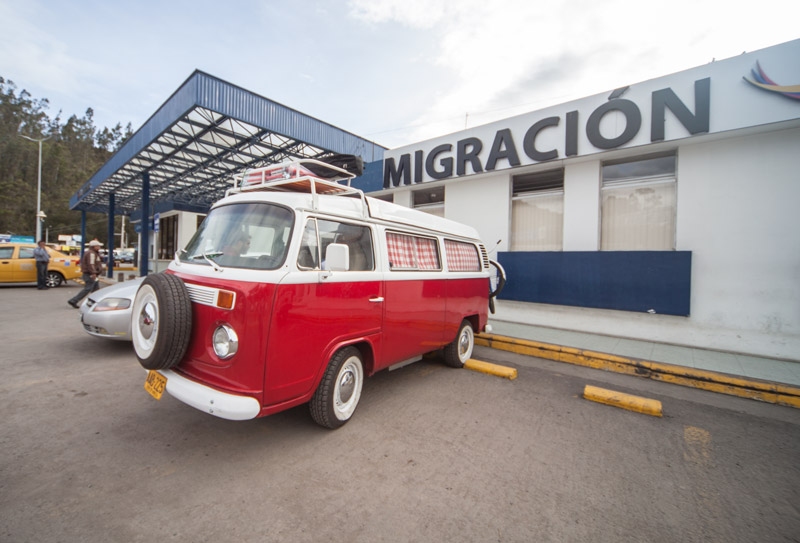 About 20 minutes after I left the border I saw a couple on the side of the road trying to hitch a ride. I haden't picked up a hitch hike in ages, but for whatever reason, I got a good feeling about the couple and pulled the Hlippie Van over and helped them in.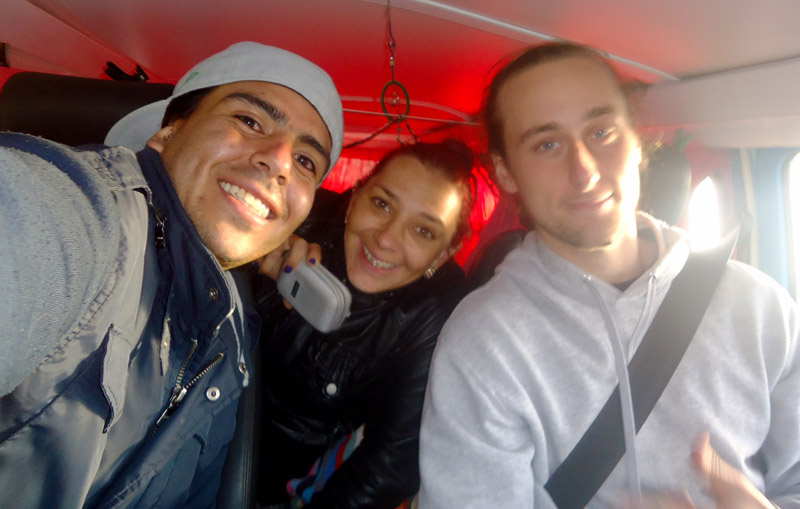 We got to talking. David and his wife Lina had been visiting Lina's family in Colombia and were heading home to Quito, Ecuador where they live and work. It turned out that David (David is actually my first legal name) not only shared first name's with me but also had the same birthday as me. Weird no? We got to talking more and it turns out David works at an Irish pub in Quito.
Earlier in the day I had sent a Couch Surfing request to a girl from Quito, and in her profile she said she managed an Irish pub in Quito. This was too big a coincidence. I ask David the name of the manager at his pub and low and behold he said, Adrianna (which was the name of the girl I had messaged in the morning).
After about 45 minutes on the road together we came to a road closure sign and a diversion. David explained that the past few days there had been tremors causing rock slides, which probably caused some road closures.
We continued to drive for another hour or two before hitting bumper to bumper traffic. It was now dusk and the line of lights went on for miles (100-200km actually). Assuming we were going to be stuck in bumper to bumper traffic for 2 or more hours, we decided to spark up a bowl of primo Colombian herb to mellow things out. The bowl certainly did the trick and we sat back and enjoyed some tunes and chatted some more.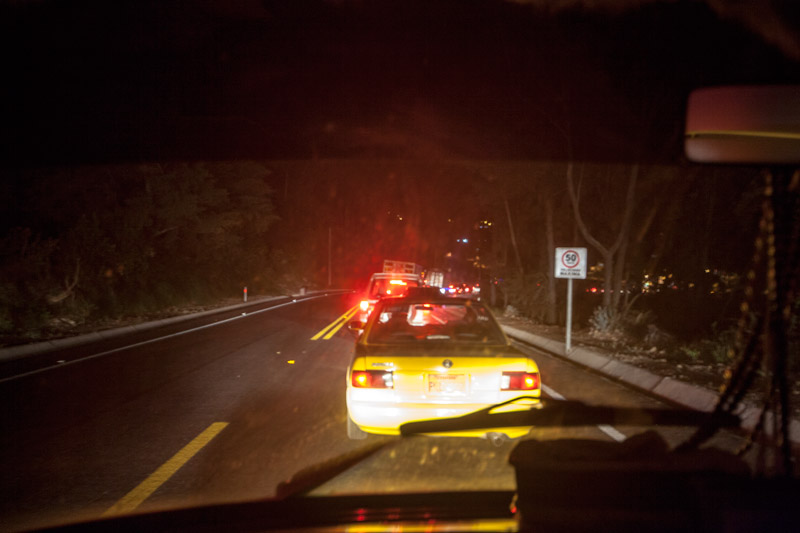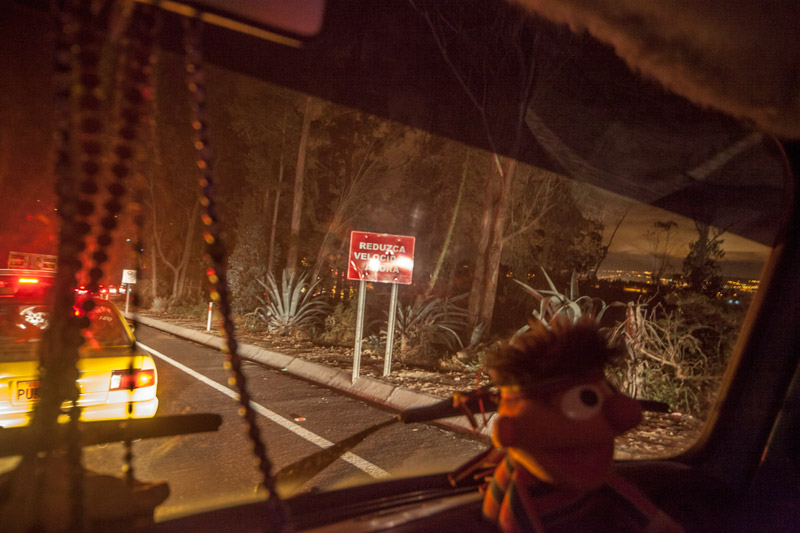 After being stuck in bumper to bumper traffic for almost an hour and a half, we saw a bunch of cars heading off on a side road up a mountain. Apparently it was an old colonial back country "road" used by the farmers that grew crops on the mountainsides, that would some how take us to Quito, skipping hours of backed-up cars on the main route. Screw it! Why not!?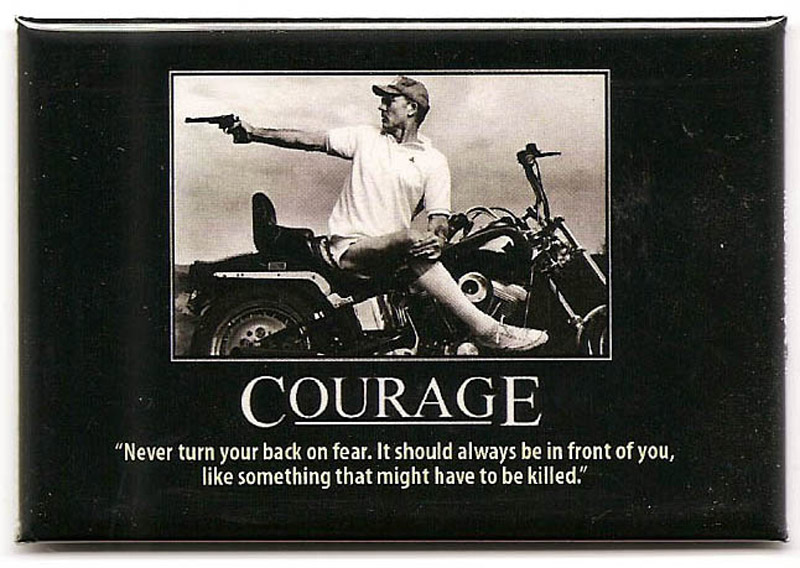 We started up the cobble stone back country road. The road was extremely narrow and steep. After climbing at least 800meters some cars started to turn around. The smell of burnt clutches and brakes was in the air.
The Hippie Van has been mechanically amazing this entire trip. However every time I've been in high altitude places (3500+ meters above sea level), the combination of cold and oxygen thin air, starves the engine of oxygen and makes it harder to start and keep running.
Due to loss of momentum (having to stop for the other cars stopped infront) in an especially steep part of road, the hippie van was stuck and the motor choked out. I couldn't get it to start and some cars were trying to come back down as well as the cars behind me trying to come up. My leg was trembling after hours of driving and then some intense driving requiring lots of tricky clutch, brake, gas pedal combinations. The fact that we smoked a bowl an hour earlier only made things more interesting.
A group of people assured me they could help talk me through backing up in the pitch black towards the edge of the cliff (not much space at all, it was a 1 lane road plus maybe 1 meter on the side before a 1000m + drop) so that some cars could pass by. This was extremely nerve racking. As I mentioned the road was steep and narrow, and my legs were physically exhausted and trembling. Scenarios of the van slipping backwards and plunging off the cliff flashed through my mind. I was propelled forward on pure adrenaline and the fact that there was no other way out of the situation. One false move and I could have easily gone over the side of the cliff in a 1979 can-of-death. Luckily with the help of the other drivers, I was able to maneuver to the side to let the other vehicles through.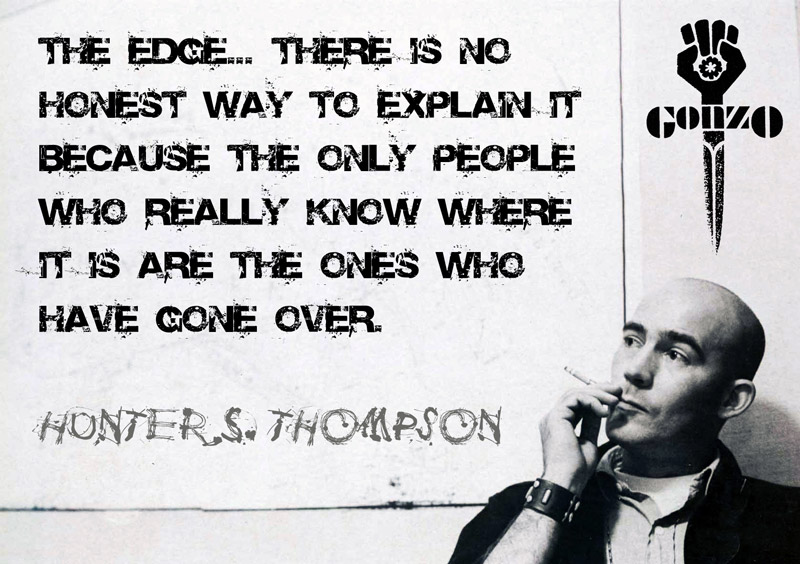 After the road was cleared, and the Hippie Van had a minute to regain it's breath, I was able to fire her up and with David and Lina outside the van to reduce the weight a little, I was able to climb the steep section where I had lost momentum.
We continued on but were now on our own. The cars in front had moved on. We drove along this dark mountainside cobble stone road for another 20 or 30 minutes. Then David and Lina noticed two motorcycle lights in the back. They said it was very unusual, as no motorcycles would take this route when they could just split lanes on the highway. They said we should speed up a little and try to catch up with the rest of the cars. Apparently robbers often used motorcycles and situations like this in order to rob cars. Scenarios began to rush through my head. What would I do if the motorcyclists caught up to us and indeed tried to rob us. Full speed ahead was the only option. This hippie van wasn't stopping for anything. I picked up the pace and we hoped we would find the line of cars ahead of us soon.
Finally after another 10 minutes we caught up to the group of cars who were also crazy enough to try this backcountry shortcut. It was quite a relief to be back with the pack. Oddly the motorcycles that had been following us disappeared when we re-joined the group of cars..
After another hour of backcountry driving we finally reached a principle road. Three more hours in traffic and about 45 minutes of smooth-sailing post-traffic-zone and we made it to David and Lina's house by 2am where they offered to let me sleep.
The journey ended up taking 14-hours. It was suppose to be 6-7 hours tops, from Pasto to Quito. This was truly a heart racing Hunter S. Thompson Gonzo-style adventure I will never forget. Now I have a great story and two new friends from the experience. What more could you ask for in an adventure?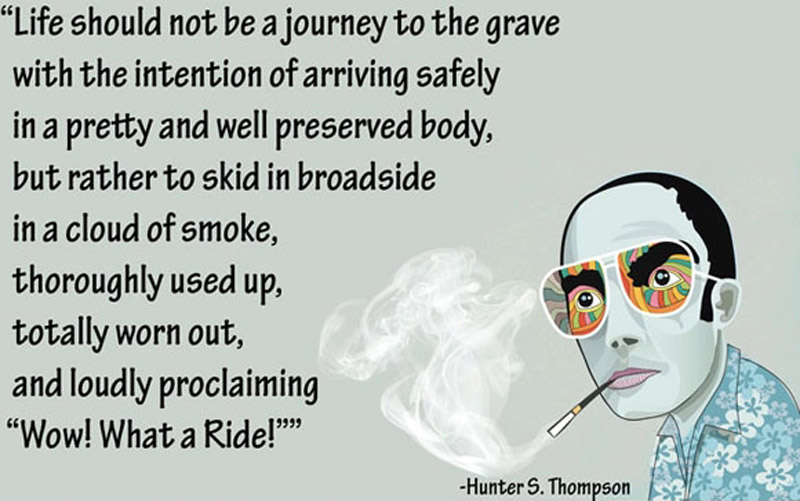 What is the wildest adventure you have ever been on? Share it in the comment section below.